Quick-Change Tap Adapters
The Universal Quick-Change design principles

Universal tap chucks are offered with Quick-Change positive drive and Quick-Change torque control adapters. Either type adapter may be inserted or removed from the chuck by merely sliding the chuck sleeve until the adapter is free. This feature enables you to change taps and/or tap adapters quickly without removing the tap chuck from the machine spindle. Removing the tap from the tap adapters is likewise easy.

It is done by simply depressing the flanged sleeve at the end of the tap adapter. Length-adjusting style of quick-change tap adapters for use with Universal chucks are also available.
Torque control Quick-Change tap adapters save time and taps.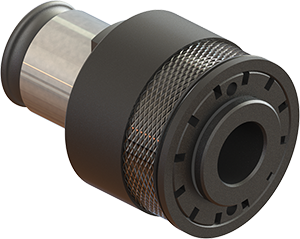 The torque control adapters also provide the same Quick-Change features by merely moving a sleeve. They offer the additional benefit of adjustable torque control to prevent tap breakage. Torque is easily set by using the simple Universal torque wrench. Length adjustment is available too. These tap adapters, used in conjunction with Universal tension and compression tap chucks, provide the optimum in trouble-free tapping, particularly on bottom tapping operations. and where work material hard spots are encountered.
Rigid Quick-Change tap adapters save time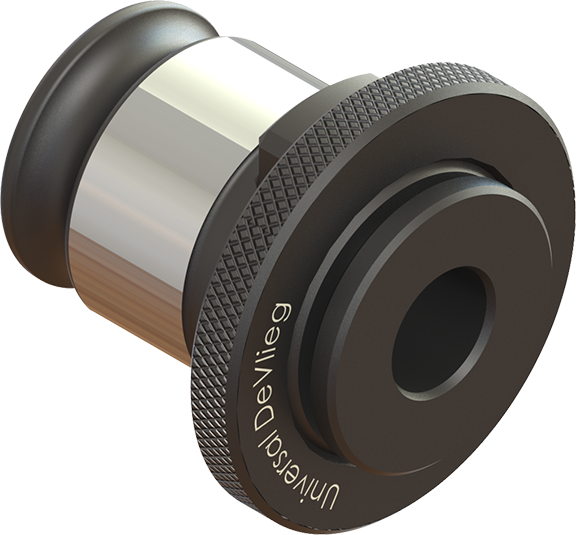 Taps can be inserted and removed in this adapter by merely depressing the flanged sleeve. Further, the adapter itself is likewise easily inserted and removed from the Universal tension and compression tap chucks by merely sliding the chuck sleeve. No special tools or wrenches are required. No set screws to loosen and tighten. Tap and tap adapters are changed fast. Reliable performance is insured by positive radial drive and dependable axial retention. And the tap adapters are available with length adjustment.
---
Refine Search